LIVE EVENTS
Opening 

October 22,

 

2022
"WITCH'S EYE: THE CAMERA LENS AS OCCULT DEVICE"


WILLIAM MORTENSEN'S ART AND LEGACY
WYRD WAR Gallery
Portland, Oregon

Homeland Insecurity
A Punk Rock Art Exhibition
10/3/2020
Indivisible 2020
Political Art Expedition
10/2020
https://creweststudio.com/indivisible-2020

Cranbrook Art Museum
AMERICAN HARDCORE: THE HISTORY OF AMERICAN PUNK ROCK

Date/Time
Date(s) – Sat, 06/30/2018
1:00 pm – 3:00 pm UTC
Location
Cranbrook Art Museum deSalle Auditorium
39221 Woodward Ave.
Bloomfield Hills, MI 48304
Click here for more info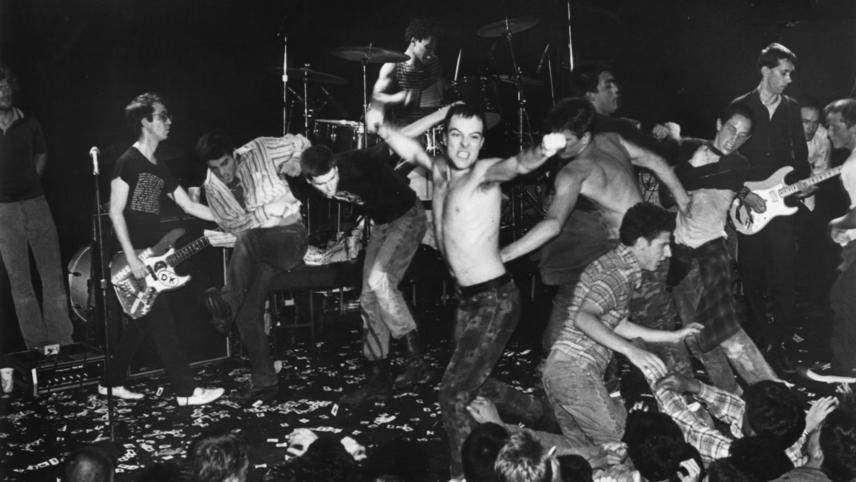 Photograph by Edward Colver
In 2014 Edward  presented a slideshow and talk for the L.A County Library.
CLOSING SHOW NOVEMBER 21st 6:00 pm-9:00 pm
EDWARD COLVER IDLE WORSHIP


Photograph Exhibit Closing reception
Friday November 21st 2014 from 6-9pm.
Last opportunity to see 3 rooms of over 100 rare and never before seen photographs.
Photographs are available for purchase at the gallery.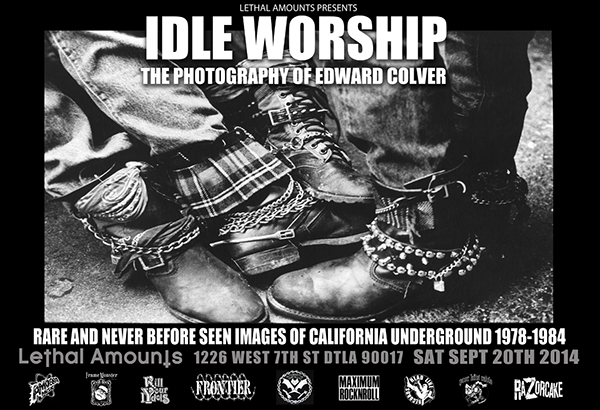 ROCK/FIGHT A Photographic Exhibit
at the Morrison Hotel Gallery
open to the public
featuring 5 of Edward's photographs
"Too Fast to Live, Too Young to Die"
Opening Reception Friday, February 25th, 2011 from 7pm-11pm
1331 W Sunset Blvd
Los Angeles, CA 90026
info@subliminalprojects.com
P. 213.213.0078
F. 213.213.0077
A selection of photography, art and ephemera from the California Punk & Hardcore scene
with an emphasis on the explosive period of the late 70′s and early 80′s.
This exhibition features both photographers  and artists  who were present
for the detonation  of  the LA  punk scene and whose imagery helped
capture and craft it's angles, attitudes, music, fashion and sub-culture.
"The Eye of the LA Punk Scene"
Opening Friday, December 3rd, 2010 from 6pm-11pm
Show  is up til January 2nd, 2011
223 W. Santa Fe Ave.   Fullerton, CA 92832    714-441-1504
Featuring photography and assemblage by Edward Colver.
The opening reception is during the Downtown Fullerton Art Walk.
On display will be his photography and some of the photographers gripping assemblage works,
making social and political statements all their own.
—
"A Star is Born. Photography and Rock since Elvis"
@Museum Folkwang July-September 2010
Museumsplatz 1   Essen, Germany   +49(0)201 8845
—
"Who Shot Rock & Roll: A Photographic History, 1955 to the Present"
@Brooklyn Museum October 2009 ongoing
200 Eastern Parkway   Brooklyn, NY 11238   718-638-5000
—
"Now Appearing Coming Soon"
@CoproNason Gallery January 2008
Bergamot Station   2525 Michigan Ave. T5   Santa Monica, California 90404   310-829-2156
—
"In the Pit. Early LA Hardcore Punk Photography"
Photos by Edward Colver.
@Caracola Contemporary July 2007
618 Moulton Ave Unit F   Los Angeles, CA 90031   626-676-5557
—
"Blight at the End of the Funnel – Edward Colver"
@California State University Fullerton  July 2006
Grand Central Art Gallery Center 125 N. Broadway   Santa Ana, CA 92701   714.567.7233
Book Release Party and Art Show Opening with Live Musical Performances by:
Flipper, DI, Channel 3 and the Ads featuring Tony from the Adolescents
—
FARAWAY SO CLOSE
Morono Klang Gallery
Edward Colver's "Hard Core California Punk Rock Scene in the 1980's" on display at House of Blues Las Vegas